Has anybody ever won the Powerball in Texas? This is what any Texan wonders when putting in a ticket for the US Powerball. The answer is yes, America's biggest lottery does have some impressive wins reported in the Lone Star State. If you want to find out more, read on as we count down the biggest Texas Powerball winners!
---
$188 Million – February 11, 2015 – The TL Management Trust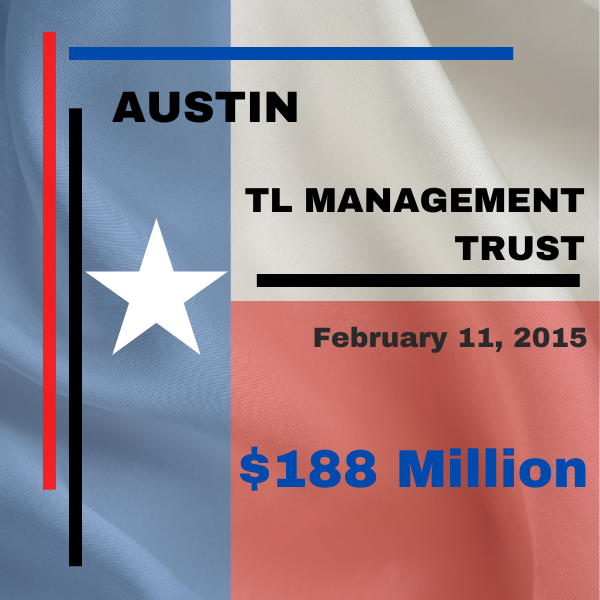 On February 11, 2015, an enormous Powerball jackpot worth $564.1 million was scooped by three tickets from Puerto Rico, North Carolina, and Texas. The holders of the Texas ticket were the last ones to come forward and claim their share of the prize.
In March 2015, the TL Management Trust of Austin, Texas, claimed the cash payout for their prize, which netted $127 million. This made them the biggest Texas Powerball winners of all times.
The members of the Austin trust did not want to give out personal details about them. They insisted on minimal publicity for their Powerball win. It was however disclosed that the lucky Powerball ticket was purchased at the Appletree Food Mart in Princeton. To share the lottery joy, the manager of the store received a $1 million bonus.
The Powerball draw on February 11th, 2015 turned out to be extremely lucky for Texas lottery players. Aside from the jackpot winner, three other players from Texas scooped a $1 million prize in the game.
---
$40 Million – May 29, 2013 – Paul McDowell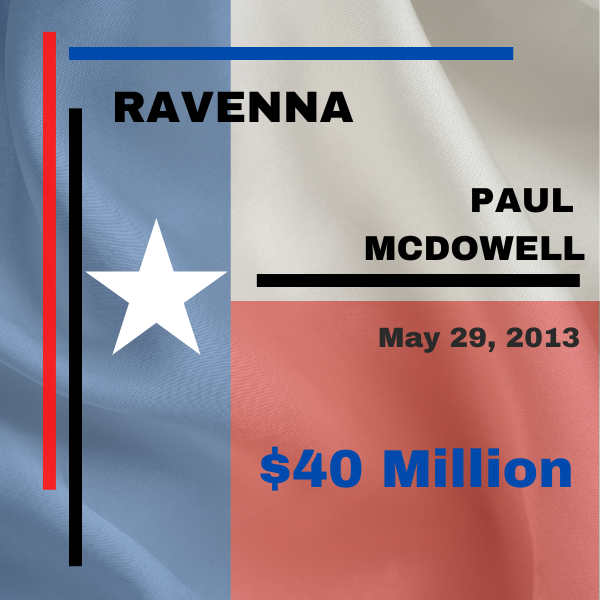 Paul McDowell from Ravenna, Texas, scooped a $40 million jackpot on May 29, 2013. It seems that it was fated for him to become a millionaire as his ticket was a very lucky Quick Pick with the numbers 9, 14, 17, 49, 52/07. Matching those six numbers was all it took for Mr. McDowell to change his life entirely and become one of the biggest Texas Powerball winners. He went to Austin to collect his Powerball jackpot and he chose the cash payout on his prize, which netted $24.9 million.
This was, in fact, the very first Powerball jackpot ever claimed in Texas since it joined the US Powerball back in 2010.
Mr. McDowell, who was 54 at the time, requested minimal publicity after collecting the money as he wanted to live a quiet life. His very first plan was to retire. "I'm going to retire here in the morning. I'm going to take my uniforms in and stuff in the morning and retire, quit, whatever you do.", he said. He also mentioned he wanted to get a few cows, a couple of tractors and a new car.
According to his friend, John Henard, that's pretty much what he did. He bought a few new cars, as well as a backhoe that he used to lend a helping hand to his neighbors as well. Mr. Henard said that not too much has changed since his big lottery win and that he and Mr. McDowell walk two miles together every morning.
Spreading joy to the entire community
Mr. McDowell said that he decided to play Powerball on his way home from work and that he purchased his lucky ticket from the Lone Star Food Store. After his win, the store became eligible for a sizable bonus of $400,000 (1% of his win). Larry Janning, the store manager said: "It was pretty exciting to wake up to!".
After Mr. McDowell's big break, more and more people started coming to the Lone Star Food Store to buy Powerball tickets hoping that his luck would brush off on them as well. To spread the joy, Bill Douglass, the owner of the Lone Star Food Store chain, decided to throw a party for the entire town.
He said "it's a once in a lifetime event, so we're excited for the people in Bells, and that's why we're throwing the party." There was even a cake with the winning Powerball numbers on it and a bouncy castle for the town's children.
Mr. Douglass also said that most of the Powerball jackpot bonus would mostly be going to the healthcare costs for his employees and that he would also give out bonuses to the employees. He also used $10,000 of the bonus money to build a new pavilion in the park in Bells.
---
Texas Powerball winners of the second prize
Above we have presented you with the two biggest Texas Powerball winners, but there are many more Powerball-made millionaires in the Lone Star State. Aside from these 2 jackpot winners, Texas also has a long list of second prize winners.
---
Dallas Player Wins $1 Million at Powerball After Using an Online Ticket Purchasing Platform
Powerball's jackpot balloons to an estimated $1.5 billion after no ticket matched all six numbers on Wednesday, the second of November's draw. However, a lucky Texan resident scooped $1 million after using an online ticket purchasing service called theLotter.
It was the very first time this Texan Powerball winner chose to play online.
He had registered on the platform just the day before and wanted to try his luck after seeing the advertised jackpot had exceeded the billion dollars mark.
Peggy Daniel, theLotter's U.S. Managing Director declared: "We have been steadily expanding in Texas since we started our service in the state a year ago […]. Though we have had great lottery winners in Texas during that time, this is the first time a Texan customer wins a sum exceeding the $1 million threshold.
We were especially excited when we realized he had only signed up with theLotter Texas the day before. We are all over the moon for him."
The 20-something-year-old player from Dallas matched all 5 main numbers (02-11-22-35-60) on November 2, 2022. He only missed the Powerball number of 23, which would have resulted in winning the Powerball jackpot! Actually, no one has hit all six numbers since August 3, 2022.
This is how the jackpot reached an estimated $1.5 billion. It actually brought a new Powerball record as it reached $2.04 Billion on November 7, 2022 when it was finally won by a single ticket from California!
---
Better late than never – The draw of October 27, 2018
On October 27, 2018, two Texas residents matched all the 5 main numbers in the Powerball, which entitled them to the $1 million second prize in the game. One of them was even inspired enough to add the Power Play feature to the ticket, which doubled the prize. The days passed after the October 27 draw, but there was no sign of the Texas millionaires.
The quiet streak continued and the Texas Lottery Commission grew more and more impatient because the deadline for collecting the prizes was quickly coming up. The winners had 180 days to come forward with the winning tickets and these were quickly passing by.
In the end, the $1-million prize was collected hours before the deadline in Houston. However, the winner of the $2-million prize never showed up, which meant that the prize funds were reverted to state programs. According to the lottery officials, the ticket was purchased in Central Texas at a Valero Corner Store in College Station. This goes to show you that checking your Powerball results after each draw is paramount and that you should always store your lottery tickets in a safe place.
---
Top Powerball winners from all states
The Powerball lottery holds the record for the biggest lottery jackpot ever awarded in the world! It reached the very amazing amount of $2.04 Million on November 7, 2022 when it was scooped by 1 lucky ticket from California.
Here are the top 5 Powerball winners from all states:
| | | |
| --- | --- | --- |
| Date | Location | Amount |
| November 7, 2022 | California | $2.04 Billion! |
| October 11, 2023 | California | $1.765 Billion |
| January 13, 2016 | Tennessee, Florida, California | $1.58 Billion |
| July 19, 2023 | California | $1.08 Billion |
| March 27, 2019 | Wisconsin | $768.4 Million |
As you can see, Texas is not represented here. Will you be the next Texas Powerball winner to enter the top Powerball winners list?!
---
Texas Powerball winners FAQ
Here are the answers to the most common questions on Texas Powerball winners:
Has anyone in Texas won the Powerball?
Yes! There are many Texas Powerball winners, including 2 jackpot winners that won respectively $188 Million & $40 Million.
Do Texas Powerball winners have to be identified?
No. If you want to remain anonymous after becoming a Texas Powerball winner, you can! Texas is one of the 11 states that allow lottery winners to remain anonymous (if you win $1 Million or more).
How many Texas Powerball winners are there?
Two players scooped the jackpot of the Powerball from Texas, however, many more scooped the second prize of $1 million.